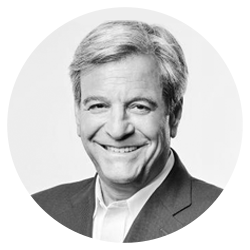 Mike Perlis
Executive Partner
Mike works with investment team members and other Executive Partners to identify, analyze, and assess potential investment opportunities.
He is a business executive with deep experience leading a wide range of content and multimedia brands. He has a strong track record in mergers, acquisitions, as an executive, board member, and angel investor. Mike joined Forbes Media in 2010 and became the first non-family member to run the Forbes Media business as CEO. He continues as Vice Chairman and Strategic Advisor.
Previously, he served as General Partner of SoftBank Capital for 10 years. Before joining SoftBank, he served as President and CEO of Ziff-Davis Publishing, owned by J2 Global (JCOM).  Earlier in his career, Mike served as Publisher of GQ, President of Playboy Publishing, and President of TVSM.  He was also Chairman and CEO of IDG Peterborough. He began his media career, entrepreneurially, as the co-founder of a special interest publisher, New England Publications, in Camden, Maine.